The Dallas/Fort Worth Chapter of the Construction Financial Management Association (CFMA) is excited to announce the 2022 winners of our scholarship program! The scholarship program is an investment in the field of construction, and in the Dallas/Fort Worth area. It provide promising construction professionals with financial assistance while completing their studies. For more information on the scholarship program and how to apply, click here. Proceeds from our upcoming golf tournament on October 10th will be used to fund future scholarships. For more information or to register for the tournament, click here.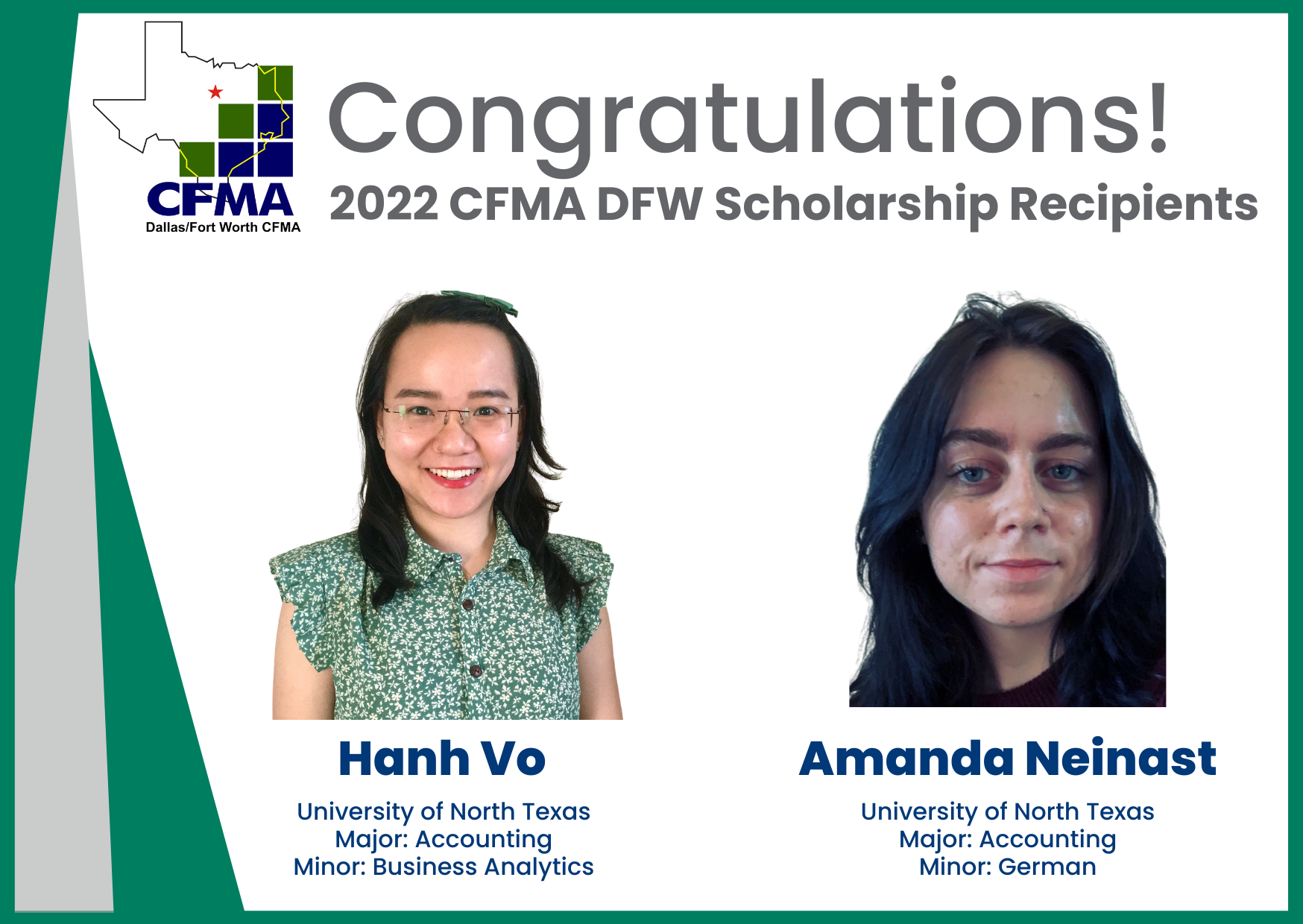 Hanh Vo: I am a graduate student specializing in Auditing at the University of North Texas (UNT), where I also earned my undergraduate degree in Accounting with a minor in Business Analytics. During studying at UNT, I am a Becker Campus Ambassador, inspiring and encouraging more students to choose Accounting as their major because accounting is not boring as they thought. After the two last internships in a bank and a public company last summer and this spring, respectively, I realized how broad accounting's application is and how significant the role of technology is in the accounting field as well as the auditing field. Technology will not take over humans, but it will make us better and faster. Therefore, I am passionate about contributing to the cooperation between accounting and technology. I will get several certifications in Data Analytics to support and improve my career path and understand more about the technology industry.
Amanda Neinast: I am a graduate student at the University of North Texas pursuing a master's degree in Accounting and a bachelor's degree in German. I am a member of the Accounting Scholars Program, the German Club, and am in the Honors College. My focus is tax, and my long-term goal is to have an international career and explore the differences in tax laws between different countries. I have also worked in the Accounts Payable department of Pavecon for 3 years now, and will be transitioning to an internship with FORVIS (formerly BKD) in the Spring of 2023!