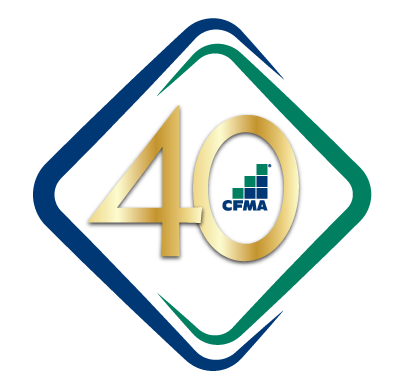 As I reflect on the last 40 years of leadership, all of our leaders share a number of common character traits: dedication to the mission of CFMA, tireless work on behalf of the Association, and personal modesty. I can think of no one who exemplifies that more than our founder, David Casey. I have had the pleasure of talking with David many times during my tenure, and his modesty about what he and his fellow partners accomplished 40 years ago is unparalleled.
Fast-forward 40 years and the 2020-21 Chairman, Kevin Booth, CCIFP, also exemplifies these same traits. I dare say that none of our past Chairmen have been faced with the circumstances that Kevin has faced this year. Our fiscal year begins on April 1 and so did Kevin's tenure as Chairman. By that time, we were two weeks into the pandemic. So, Kevin's entire tenure has been during the pandemic. His approach has been a steady one: minimize our face-to-face interactions; use technology to enhance communication; and adapt, adapt, then adapt some more. I can think of no one more perfect than Kevin for these times, and all of CFMA is incredibly grateful for his leadership. He exemplifies the traits that David Casey started the Association with and carries a wonderful legacy into the future.
So, for those of you who are newer to CFMA, you might ask, "What has CFMA done to make itself so successful?" Let me paraphrase the words of Frank Di Lorenzo, who was named the Associate of the Year by CFMA's Sacramento Chapter at its 2020 virtual Executive of the Year event. During his acceptance speech, Frank said, "Where else can a contractor meet with a CPA, a banker, a surety, and a software company all at the same time for free?" I guess you can presume that his answer was CFMA, and you would be correct. Frank pinpointed what I think of as CFMA's secret sauce. From its inception, the leadership was very wise in bringing together General Members who work for construction companies with all of their industry partners as Associate Members. The synergy that takes place at the local and national level is priceless to all of our members. I've noticed over the years that other construction industry associations have started to include associate members in their membership, but I'm going to make the bold statement that no one brings these disparate groups together better than CFMA.
This year is also a time for me to personally reflect on my years at CFMA, as I will celebrate my 10th anniversary as CFMA's President & CEO in February 2021. A number of notable actions have taken place over the past 10 years, including:
The addition of 16 new chapters
The Annual Financial Survey became CFMA's Construction Financial Benchmarker,
which also moved to a fully electronic product
CFMA selected Viewpoint and BKD as its Principal Partners
The first edition of CFMA's State Tax Law Guide was published
The Construction Industry Alliance for Suicide Prevention (CIASP) was formed
CFMA expanded to over 9,000 members
All of these accomplishments would not have been possible without the outstanding work by CFMA's staff who were behind each and every one of these accomplishments, along with the support, guidance, and direction of our volunteer leaders. The time and energy they devote to CFMA never fails to amaze me.
So look for articles in CFMA Building Profits and on www.cfma.org for reflections over this year about all we have accomplished in the last 40. Congratulations to CFMA! And, thank you – our members – for all your support, and keep pushing us to be bigger and better in the next 40 years!
Copyright © 2021 by the Construction Financial Management Association (CFMA). All rights reserved. This article first appeared in January/February 2021 CFMA Building Profits magazine.